2003

01/05/03 (sun) @University of California Davis
KDVS 90.3fm third annual hiphop marathon
14 Lower Freeborn Hall University of California Davis, CA 95616
www.kdvs.org
FREELANCERS UN1TED (Shing02 on the faderbaord, DJ Top Bill, Cosiner, A-1)

1/16/03 (thurs) - 1/19/03 (sun) @ Anaheim Convetion Center, Ahanheim, CA
NAMM Convention
Demonstrating Live / Vestax Booth:
FREELANCERS UN1TED (Shing02 on the faderbaord, DJ Icewater, Cosiner, A-1)
for details: NAMM

04/05/03 (sat) @ Dwinelle Hall, UC Berkeley
API Student Association Presents:
Freelancers Utd. (Shing02 + A-1)
04/07/03 (mon) @ Hookin Style, Berkeley
2512 Telegraph Ave. Berkeley, CA. tel 510.325.1701
Artist Showcase, works by BROWN
featuring:
Crown City Rockers, DJ Cikee, Freelancers Utd. (Shing02, Cosiner, A-1, Icewater)
04/13/03 (sun) @ Hookin Style, Berkeley
Jam Session featuring:
Flo-ology, Freelancers Utd. (Shing02 + A-1) etc
05/03/03 (sat) @ People's Park, Berkeley
students for hip hop presents HIP HOP IN THE PARK (1PM ~)
headliners: Lyrics Born, Medusa, Crown City Rockers
featuring: Freelancers Utd. (Shing02 + A-1)
05/16/03 (fri) @ Punch Gallery, San Francisco
photo exhibit on dance hosted by Ten of Flo-ology
7pm urban dance workshop. $5, all ages
9pm - 2 am. $5, 18+
Hound Dawg Truckers (bboys)
DJs: Infiniti, A-1 + Shing02 (hiphop), Chris Montel (house)
155 10th St, San Francisco, CA. www.punchgallery.com

06/20/03 (fri) @ 330 Ritch, San Francisco
the return of solution tokyo san francisco sound session
DJs: Apollo (triple threat), Top Bill (circus djs), Taka (10 production)
Live: Shing02 / Freelancers Utd.
$5 b4 11pm, $10 after, 21+

08/19/03 (tues) @Studio Z, San Francisco
Love Fights Back: Hip Hop vs. Cancer * A Benefit for the Morris Family *
Feat. performances by:
Crown City Rockers (B-Sides Crew)
Pep Love (Hieroglyphics)
Zion I featuring D.U.S.T. & Duece Eclipse (Live Up!/418 Productions)
DJ Zeph (wide hive records/V.U.)
Shing02, DJ A-1, DJ Icewater (freelancers united)
Bicasso and Scarub (living legends)
Oakland Faders (B-Sides Crew)
hosted by: Amad Jamal (ABB records/S.O.L.A.R. Panel) plus special guests
doors 9pm @Studio Z 314 11th St., SF
$10 presale, $15 door www.ticketweb.com
www.crowncityrockers.com


09/04/03 (thurs) @Studio Z, San Francisco
Studio Z presents:
LIVE:
Live Human featuring DJ Quest
DJ Disk
DJ Flare
Shing02, DJ A-1, DJ Icewater, Cosiner (freelancers united)
314 11th St., SF
$7, 21+
www.studioz.tv
09/11/03 (thurs) @Great American Music Hall, San Francisco
Hip Hop Slam Presents: DJs of Mass Destruction (or Creation)
LIVE:
Zion-I
DJ Zeph & Azeem
Soul
DJs of Mass Destruction (Hip Hop Slam production)
lineup includes:
DJ Pone (The Embedded DJ), Shing02 + DJ A-1 + Icewater, Cat Five, DJ Quest. DJsOMD set will be from 10:30PM-11:15PM
Admission is $12, doors open at 8:30PM, 9PM showtime,
859 O'Farrell St., in San Francisco 415-885-0750
www.musichallsf.com Valdiated parking @ Cathedral Hill Hotel, 1101 Van Ness

Shing02 will also be participating in:
911 Remembrance Vigil+Art Show Activities from 10-9 at Aurobora Press+Gallery
147 Natoma (behind the SF MOMA) event info (word document)
and
Radio Apex: Asian and Pacific Islander Radio Thursdays, 7pm-8pm, kpfa radio 94.1 fm or www.kpfa.org
09/12/03 (fri) @Lower Sproul, UC Berkeley
Planet Rock of the Block
5-7 pm
DJs:
Rygar - classics Alex Benson - uptempo/breaks
Roza - electro breaks
Shing02 and A-1 (freelancers utd) - faderboard and turntables

10/25/03 (sat) @Aka-Renga Building, Yokohama
VESTAX Extravaganza 2003
Yokohama Red Bricks (Aka-Renga) Warehouse Bldg 1, 3F Hall
Tix: pre-sale 3000yen, door: 3500yen
Guest Performance:
DJ Qbert, Shing02 + DJ Top Bill, DJ Hanger, Hifana

10/26/03 (sun) @Vestax TO THE CORE, Shibuya
Faderboard Demonstration
http://www.vestax.jp/

11/01/03 (sat) + 11/02/03 (sun) @Shibuya UPLINK, Tokyo
Droppin' Lyrics Screening + Talk Session
with special guests tba
http://www.uplink.co.jp/

11/02/03 (sun) @WENOD, Ebisu, Japan.
WENOD Instore
LIVE: Shing02, DJ Top Bill, DJ Kou, Candle, etc
http://www.wenod.com/

Mary Joy Recordings Presents:
EXSPECTO SONITUS POSTERUS 4 flier

11/14/03 (fri) @Shinjuku Liquid Room, Tokyo
Live Performances by:
SHING02
LIVE HUMAN with DJ QUEST profile in japanese
PISMO of Burnt Batch
open 22:00, All Night (over 20), advance ticket: 3,675yen, door: 4,000yen
Information: Liquidroom 03-3200-6831 http://www.liquidroom.net/

11/15/03 (sat) @VOX HALL, Kyoto
LIVE HUMAN + DJ QUEST
SHING02 (faderboard set)
ticket: 2,500yen w/1D
show: 18:30-21:30
info@resoar.net

11/16/03 (sun) @BAY SIDE JENNY, Osaka
Live Performances by:
SHING02
LIVE HUMAN with DJ QUEST
with special guests tba
open 18:00/ start 19:00, advance ticket:3,000yen, door: 3,500yen
Information: BAYSIDE Jenny 06-6576-5640 http://www.ylma.co.jp/bayside/baysidetop.html
11/29/03 (sat) @Last Day Saloon, San Francisco
Hard Knock Records Presents:
What About US? Compilation CD Release Session
LIVE:
Eyecue and Rashinel (Hobo Junction),
The Omen, Shing02, Rico Pabon (Prophets of Rage), etc
$7door, $5 with canned food
9pm OPEN
406 Clement St. (Clement @ 5th Ave.) phone: 415.387.6343

Shing02 meets The Supplicants aka Kosmic Renaissance

12/04/03 (thurs) @ The Beat Lounge, San Francisco
Broadway and Kearny, SF 9pm, $5 Cover

12/05/03 (fri) @ 111 Minna Gallery, San Francisco
LIVE: Kosmic Renaissance with DJ Icewater + DJ A-1
111 Minna Street off 2nd btwn Mission & Market
9pm, $10 cover ($7 with canned food donation)

12/12/03 (fri) @CLUB SIX, San Francisco
60 6th St (Market and 6th), San Francisco.
9pm-4am 21+, $5 cover 'til 10pm, then $10 cover
Kosmic Renaissance (David Boyce, Sameer Gupta, Shing02)
Broun Fellinis
WWW.CLUBSIX1.COM

faderboard session with members of free jazz super group!
a meeting of electronic and acoustic improvisation In the realm of electronic and acoustic music. Along with shing02 on the faderboard, the arsenal of FX and loops known as Black Edgar's Musicbox, captures the electronic side of avant-garde saxophone stylist David Boyce (Broun Fellinis). Adding explosive improvisational percussion to the electronic soundscape, will be Sameer Gupta (The Supplicants) on Drumset and Tabla.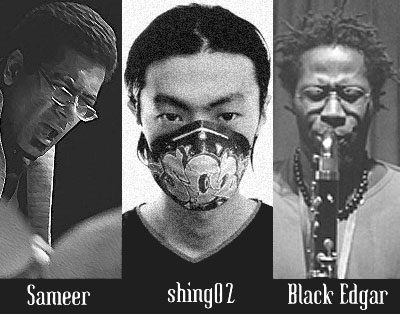 12/20/03 (sat) @CLUB SIX, San Francisco
Academy of Art College JAPA PRESENTS:
MONTAGE ~ AFTER 9 ART SHOW ~
60 6TH STREET, San Francisco
Live Performance:
DJ Quest feat. Live Human, Oakland Faders, Freelancers Utd (Shing02, DJ Icewater, DJ A-1), etc
AT CLUB SIX. 60 6TH ST. BTW. MARKET & MISSION ST
BLACKOUT!!!