2005
March

03/27/05 (sun) @ Bruno's Jazz Club, San Francisco

THIS IS A NEW DATE!!! (moved from the13th) SORRY AHEAD FOR ANY INCONVENIENCES!!!


Kosmic Renaissance
David Boyce (tenor and soprano saxophone, efx) Sameer Gupta (drums, tabla)
Shing02 (faderboard, arp odyssey)
Bruno's Jazz Club 2389 Mission @ 20th, SF 9:00pm, $6 cover, 21+


¤@
03/30/05 (wed) @ Make Out Room, San Francisco

"Blossom: Spring Evening of Groove, Art, and Sharing"
A benefit presented by Kumojarashi Productions

$7 donation
Featuring DJs: Vanka, Shing02 with DJ Zico

A benefit evening of hot beats, grassroots-led and volunteer-supported educational film project to raise awareness about on-going civil rights issues in Japan, fiscally sponsored by US-Japan non-profit, Japan Pacific Resource Network, Oakland, CA
also, mini-art exhibit by local Japanese emerging artists, and Blossom Silent Raffle!

3225 22nd street, San Francisco 94110
(415) 647-2888

The Fundraiser was a great success!!! thanks for all that came out and chipped in for good vibes ~
April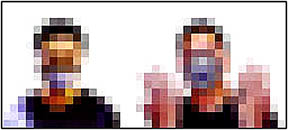 04/08/05 (fri) @ Triple Crown, Brooklyn, NY
Palette: Two
MC + DJ sets
feat: Shing02 + DJ Icewater (Oakland)
DJ Klock (Tokyo)
Tsukkie
108 Bedford Ave, Williamsburg, Brooklyn, NY
718.388.8883

04/09/05 (sat) @ b.p.m, Brooklyn, NY
Palette: Three
Sound Session
feat: Shing02 + DJ Icewater (Oakland), DJ Klock (Tokyo), Dub Nomads (NYC)
art: Kenji Hirata
237 Kent (betw N. 1st & Grand St), Williamsburg, Brooklyn, NY
718.486.3830

DJ Icewater: (westcoastmixtapes.com / Witness Relocation Program)
DJ Klock: (Clockwise Rec, Tokyo)


June
06/18/05 (sat) @ CAY, TOKYO
HEART OF THE PLANET EARTH
A Space Odyssey
LIVE: GORO, SHING02, DUBSENSEMANIA,
Sachiho Kojima, DJ YOGURT, Ras Takashi, Seisen Ito
OPEN / START 22:00
Pre 3,000yen / Door 3,500yen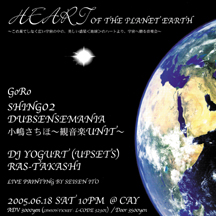 06/21/05 (tues) @ Yoyogi Park Main Stagte, TOKYO
GESHIFES 2005
a Candle Night sposored event
Time: 17:50 - 20:30
ACTS: shing02 / SUIKA / Candle JUNE / etc
FREE (hats will go around)
HP: http://geshifes.cultivaders.com/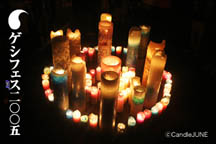 07/01/05 (fri) @ Pride Tsuchiura, IBARAGI
BASHMENT (U.P.T no.2 store Opening Party)
Open 10:00 PM
Guest Live: Shing02, MC Candle, Sonic Oil
Guest DJ: Ta-Shi (Beat Knuckles) Top Bill (Circus DJs)
AKI (Super Burrito)
Resident DJs: Dai-nasty, Mash, Benny, Joji, Bishop, Shu
Gents 2000yen, Ladies 1000yen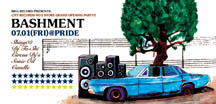 ¤@


07/06/05 (wed) @ The Madrone Lounge, 500 Divisadero x Fell, San Francisco, CA
An Evening w/ Kosmic Renaissance + Eight Track Mind
David Boyce (tenor and soprano saxophone, efx) Sameer Gupta (drums, tabla)
Shing02 (faderboard, arp odyssey)

$5 at the door after 9pm
Madrone Lounge
500 Divisadero Street
San Francisco
415 241-0202
www.madronelounge.com

Eight Track Mind is an 8 piece live Hip-Hop band that has been playing the North West for the past two years opening The Wailers, Eek-A-Mouse, Tone-Loc, Heiruspecs, Digital Underground, Young MC, The Crown City Rockers, Wu-Tang Clan, Hieroglyphics and Gift of Gab.
Kosmic Renaissance is an electronic- world - Jazz - Hip-Hop trio comprised of David Boyce from The Broun Fellinis, Shingo Annen of Freelancers United and Sameer Gupta from The Supplicants.
With special guest DJ J-Boogie (Om Records & KUSF)
Happy hour music by DJs Wrong & Dave Aju

also, look out for a spot at the San Jose Jazz Festival in August !!!
¤@
July
07/30/05 (sat) @ MILK Bar, 1840 Haight Street, San Francisco, CA
SOUNDBRIDGE2
10PM - 2AM, 21+w/ID Free before 10PM, $10 AFTER
LIVE: Shing02 (MC set)
Kirby Dominant (Rapitalism.com)
DJ Icewater (West Coast Mixtapes.com)
Big Taka (FTC)
Eq=A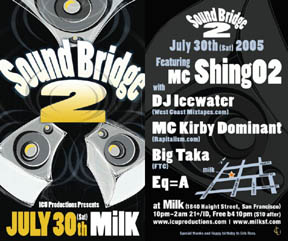 August
08/12/05 (fri) @ San Jose, CA
Jazz Beyond: Kosmic Renaissance at San Jose Jazz Festival
presented by Adobe Systems, Inc
w/ Michelle Amador & The True Believers, Jason Morgan and The Bandwagon
San Jose Repertory Theatre, downtown San Jose
Free Admission!
David Boyce (tenor and soprano saxophone, efx) Sameer Gupta (drums, tabla)
Shing02 (faderboard, arp odyssey)
September

Mary Joy ESP Division Presents:



Kosmic Renaissance Japan Tour 2005
David Boyce (tenor and soprano saxophone, efx) Sameer Gupta (drums, tabla)
Shing02 (faderboard, arp odyssey), with Hiraku Suzuki
CHIBA
9.16.05 (fri) @ Studio Pirates
"OTO NO HOSHOMICHI"
live: Kosmic Renaissance
dj: DJ R-Mastard, DJ diguk, GRM, ISO, Sotaro, Yama
live: TOMO, Mitu, Souchi, Zen
open/start: 22:00
adv.: 2,500yen / door: 3,000yen
more info: Studio Pirates 043-227-2728



NAGOYA
9.17.05 (sat) @ RADIX
"RADIX presents stereo -ESP SESSIONS-"
live: Nude Jazz, Kosmic Renaissance
dj: DJ Kensei, Apollo, Kontrajaz
vj: Imaginary Flowers
2f: Woom Cafe
open/start: 22:00
adv. tickets: 3,000yen / adm: 3,500yen
PIA (0570-02-9999/208-545), FamilyMart, Sunkus, Seven-Eleven
[nagoya area] a*sian (052-264-3578), banana records sakae (052-961-7534), banana records parco (052-264-8655), decibel (052-243-7525), down stair (052-252-0286), escape (052-269-3663), jigsaw (052-242-2423), juice (052-954-8465), mortar (052-269-2775), out record (052-269-5525), radix (052-332-0073)
[mie area] rivet (059-256-7887)
[Hamamatsu area] high times (053-458-0676)
more info: Radix 052-332-0073 www.radix.to / mary joy


NAGOYA
9.17.05(sat) @ Apple Store Nagoya Sakae
instore LIVE: KOSMIC RENAISSANCE
start: 7:00pm / FREE!
more info: Apple Store Nagoya Sakae

TOKYO
9.18.05(sun) @ LIQUIDROOM
"HOUSE OF LIQUID sunday afternoon"
LIVE: KOSMIC RENAISSANCE w/ Hiraku Suzuki
DJ: MOODMAN, JUZU A.K.A. MOOCHY
VJ: UKAWA NAOHIRO (MOM/N/DAD PRODUCTIONS), and more TBA
open / start:16:00 (20ÆÔÀ¢ÀÆäÕäÀœ¡¡s¹Î)
adv: 3,000 / door: 3,500yen, HOL members: 2,500yen
more info: liquidroom.net / maryjoy.net

GINZA
9.19.05(mon) @ Apple Store Ginza
instore LIVE: KOSMIC RENAISSANCE
start: 7:00pm / FREE!
more info: Apple Store Ginza




KYOTO
9.22.05(sat) @ MojoWests
"EyeRhyme 006"
live: Kosmic Renaissance, The total jams
live paint: DOPPEL
dj: DJ Takuma (BEATS JUNGLE / MO'WAVE), EMI (Katsuryoku-Ya / ANIMAL GUIDANCE), KOHTA(free Design)
open/start: 23:30
adv. ticket 1,800yen / door: 2,300yen
tickets available at JET SET kyoto 075-253-3530, 58 DINER 075-752-1358
more info: MojoWest 075-706-8869
EyeRhyme www.eyerhyme.net


OSAKA
9.23.05(sun) @ Jaz'room Nuthings
"Love Craft"
live: Kosmic Renaissance, doverise, Red Red Mohican, The Henircoots, Ittetsu, Go
dj: Mamezuka, Unknwon Abstraction's, Okano, Satoshi Okano
dance show case: Kumi, Yukkin, Shunken, Yuri
open/start: 20:00 (all night)
adv. ticket: 3,000yen (w/1d) / door: 3,500yen (w/1d)
ticket info: nuthings 06-6244-1071 (19:00-23:00)
mail: lovecrafft2002@ezweb.ne.jp

ASAGIRI JAM
10.2.05(sun) @ Asagiri Kogen
LIVE: KOSMIC RENAISSANCE
more info tba: Asagiri Jam



| | | |
| --- | --- | --- |
| tour support by: | | |