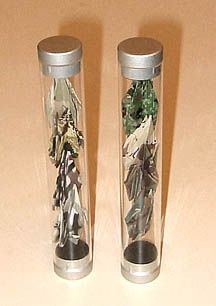 above: camo crane for after hiroshima exhibition (case: Monster)
below: camo crane from uplink, tokyo sent to London (photo: Top Bill)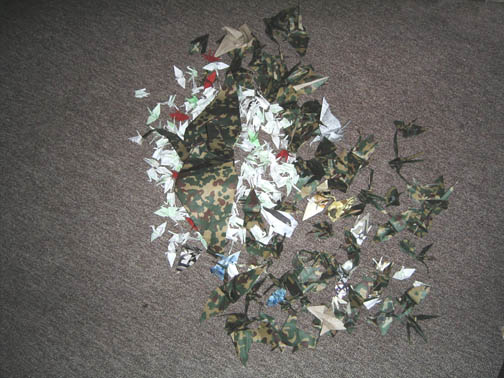 Origami Cranes required for the After Hiroshima exhibition!

Part of the exhibition will include a display of origami cranes in memory of Sadako Sasaki and victims of Hiroshima. To achieve this we require as many cranes as possible.

All contributions of cranes are welcome and all contributors will be acknowledged within the exhibition. The Cranes collected will be displayed and will be sent to Hiroshima after the exhibition tour!

A preferred format would be from 15 cm (about 6 inches) origami paper.
(Of course, any paper or pattern is OK!)
Please send your origami cranes along with:
your name and address to allow acknowledgement to;

Copad Arts After Hiroshima
31, Hertford Avenue
East Sheen, London.
SW14 8EF
United Kingdom

The closing date for contributions is June 30 2005.
However for work to be acknowledged in the exhibition catalogue,
it should be received by the March 31st 2005.
(sorry for short notice!)

For more details see http://www.afterhiroshima.org/exhibition.htm

Link: British Origami Society amazing skills!

If you are sending in camo cranes, please send us a picture also!
email

1000 Cranes, Sadako Sasaki, and Hiroshima
(taken from afterhiroshima.org)

At the age of twelve, a Japanese girl living in Hiroshima, Sadako Sasaki fell ill from Leukemia. Sadako had been a baby when the bomb had dropped but lived within two kilometres of where the bomb exploded. The disease was attributed to the side effects of the atomic bomb. A visitor to her in Hospital told Sadako of a legend. She told her that if a sick person folded 1,000 paper cranes they would soon get well. The crane was a sacred bird in Japan that lives for a hundred years. Determined to beat her illness Sadako set about folding 1,000 cranes. She kept folding throughout her illness but sadly died before completing the task. She had managed to make 644 paper cranes.

Word of Sadako's efforts spread quickly throughout Japan and overseas, and money was collected to build a monument to her memory. On May 5, 1958, almost 3 years after Sadako died, a monument to her was constructed close to the centre of the Hiroshima Peace Park. It is now known as the Children's Peace Monument. People from all over the world continue to send folded paper cranes in memory of Sadako Sasaki. On August 6, world peace day, a ceremony is held in her memory where the cranes are placed on the monument. Folding 1,000 cranes continues to be associated with Hiroshima and other peace movements who use origami cranes as a method of showing their commitment to world peace.